FOR IMMEDIATE RELEASE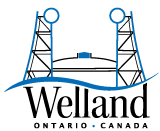 March 3, 2020
Welland, ON – The City of Welland is sending best wishes to Niagara's Francophone community for Month of 'La Francophonie 2020'. As one of Ontario's 26 designated Francophone communities, Welland continues to make a concerted effort to enrich the lives of its 11% French-speaking community. To celebrate the month of 'La Francophonie
2020,' Bridge 13 will light up green and white on International Francophonie Day this Friday, March 20, 2020.
City of Welland Council and staff are focused on strengthening relationships with the Minister of Francophone Affairs, The Honourable Caroline Mulroney, and staying current with Ontario's Francophone policies and opportunities.
The City of Welland continues to build and foster relationships with the Francophone Employment and Resource Centre (CERF-Niagara), Centre de Santé Communautaire, Foyer Richelieu Welland, l' Auberge Richelieu Welland, and Paroisse Sacré-Cœur. These organizations help make Welland an inviting place to live, work, and retire for French-speaking families.
The City of Welland strives to build awareness and offer a warm welcome to potential visitors by expanding its Frenchspeaking services and promoting Francophone culture with connection to the Francophone and Francophile Cities Network (FFCN). The Francophone and Francophile Cities Network brings cities together by linking them with a trail of associated cities throughout Canada, the U.S., and the Caribbean.
The city's website also offers visitors a French-language section that provides information on the best places to see and visit in the city. The Francophone section highlights Welland's attractions, provides a history of Welland's Francophone culture, showcases Welland's sister city Sorel-Tracy in Quebec, and provides relevant links to related news and resources. "Welland's Francophone presence has enriched our multi-cultural city," said Mayor Frank Campion. "We also recognize the significant contributions to growth and prosperity made by members of the Francophone community, and the positive influence of French language, culture, and heritage on our city."
For more information on the City of Welland and to learn more about the city's French-speaking visitors section on the website, visit welland.ca.